Collaborating with
ELEPHANT HEART
Voices and Visions
Published by Marrowstone Press;
expected publication date, January 2022
ELEPHANT HEART will be a book of short stories, poetry, and visual art, from the creative imaginations of our young and young at heart about our home, this Earth we share with nearly nine million species. Such gifts nurture our ability to better understand our planet and why we need to care for it.
Some of the creative contributions will be stories about personal or cultural circumstances, about poverty, and despair, some about joy, and purpose, and hope. Some will be shaped as parables spinning out of metaphors, while others ignite in revelations of sharp reality. Between the words are the images—visual artists sparkling our world with color, shape and form, texture, and the heart's spontaneity. The gate is open.
We'd like to see submissions come from every corner of the Earth, representing a quilt of cultures with expressions as varied as imagination is deep. Through these gifts we are taught, we learn, and we grow.
From observations, close-up, and from afar, I've felt for a long time we need rapprochement between the heart and our home, finding better ways to teach our children, and more importantly, ourselves.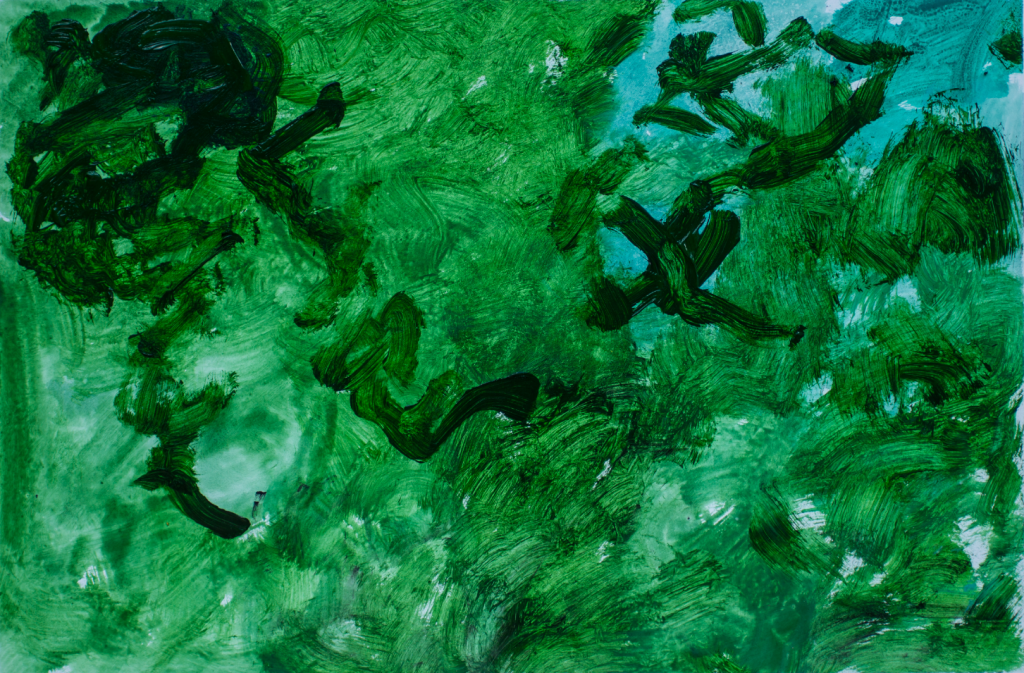 From the Trees, painting 2012, by Chang lek, Thailand
Elephant Heart is not a contest, not a competition. Neither is there an age limit, per se. We're inviting, as well, a selection of professional authors and visual artists who still carry and care for what Lewis Hyde, in his remarkable book, The Gift, reveals as "…participants into a wider self. The creative spirit moves in a body or ego larger than that of any single person. Works of art are drawn from, and their bestowal nourishes, those parts of our being that are not entirely personal, parts that derive from nature, from the group and the race, from history and tradition, and from the spiritual world."
In Elephant Heart, 'heart' is held as metaphor. In Thailand, where I've lived for twenty-two years, the elephant (chang) has been associated with Lord Buddha, and there are well over three hundred metaphors that use the word heart (Jai) with other words to describe human emotions and various states of interrelationships. One such is Jai Yài (Big Heart), symbolizing generosity, as it also does in the English language.
Here we also find Boorisùt Jai, or Pure Heart, the essence of childhood, curious, trusting, and innocent.
A few years ago, I did a video interview of a friend's eight-year-old  son; this would become the first stirrings of Elephant Heart. In the video, Hjalmar describes his painting of an elephant and the difficulties these magnificent creatures have surviving in their rapidly disappearing habitat. In the end, he turns toward the camera and with remarkable sagacity, especially for an eight-year-old, appeals to the viewer: "What can you do to help animals and endangered species, like deer, elephants, seals, whales, and other animals that are in danger. Can you write a poem? Can you write a story? Can you stop hunting them? Can you throw away your guns and look after them? Can you do that for the world? If you can't, then go somewhere else. If you can, you can stay here, on Earth, on our planet." 
Hjalmar's insight comes from a natural spiritual innocence and concern. Children, with their less entangled thought-processing and those adults who've managed to hold onto a good part of their child-self, could very well be the best guides for getting us out of the mess in which we currently find ourselves, ever more estranged from this planet we call home.
We have only one home, and it belongs not to a few humans or a group of humans, not to one race or religion over another; nor even one species more so than another. This home, this living orb of synchronicity, symbiosis, and reciprocity spinning through the Universe, breathes for all of us.
All submissions will be featured on the Elephant Heart site page, and a selection will be published in a beautiful hardback edition available within global distribution from which profits of sales are to be dedicated to the ELEPHANT HEART ENVIRONMENTAL SCHOLARSHIP FUND. If you're interested in submitting a short story, a poem, or visual art, go to CONTACT,  and send me a message. Be sure to include your name and email address. I'll get back in touch with you.
* Our CREATIVE TEAM will be listed on this page beginning in January 2021